UI UX Design course primarily focuses on the visual and interactive aspects of a user interface. It involves creating aesthetically pleasing and user-friendly designs that facilitate intuitive interactions and enhance the user experience. UI designers create the visual elements of the interface like web application and mobile application, including the layout, typography, color schemes, and overall aesthetics. They aim to create visually appealing designs that align with the brand identity and target audience.
UI UX design course in Nashik
UI designers work closely with UX designers to ensure that the interface meets the needs and expectations of the users. They conduct user research, create user personas, and design interfaces that are intuitive, easy to navigate, and provide a seamless user experience. UI UX Design course in Nashik is available at I-Tech System, Nashik.
UI designers use wireframing and prototyping tools to create low-fidelity and high-fidelity representations of the interface. These visual representations help communicate the design concept, test usability, and gather feedback for iterative improvements.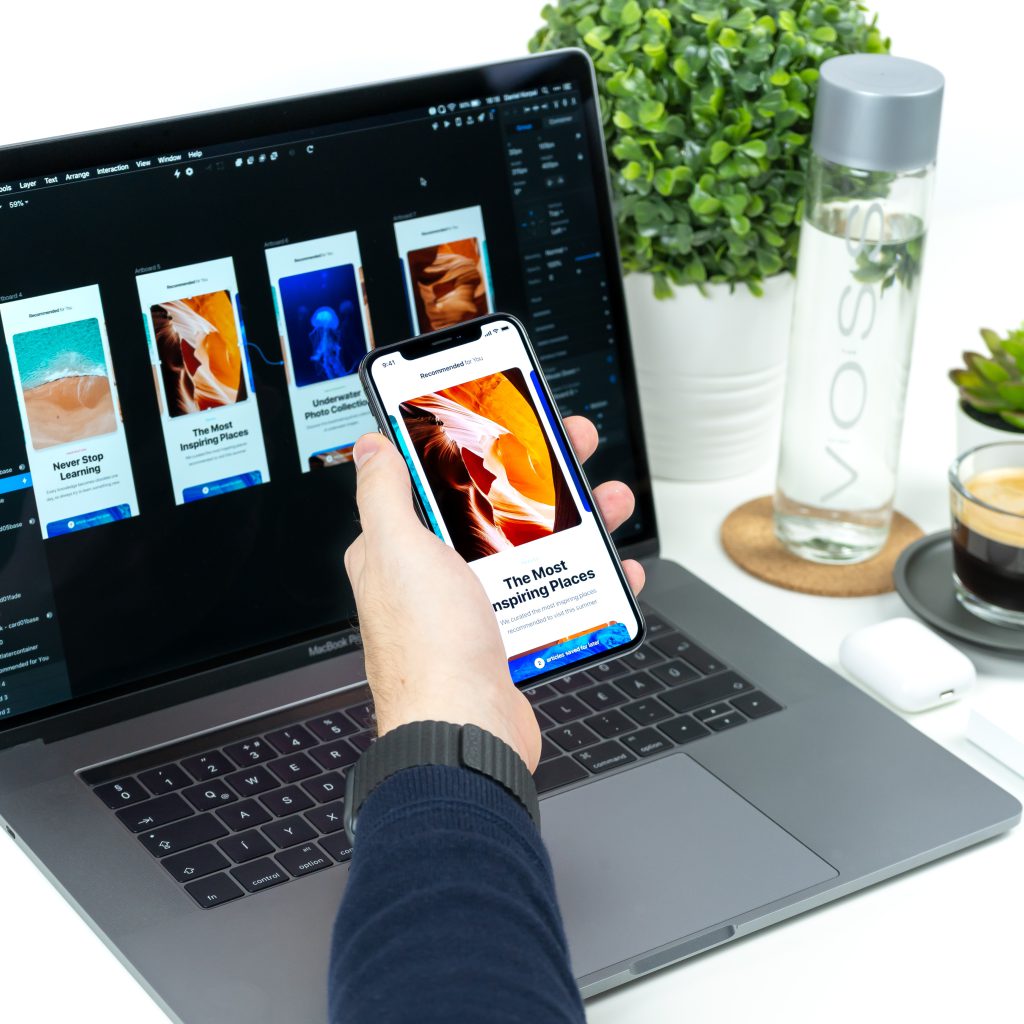 UI UX Design Course Contents
Introduction to UI Design
Understanding the role of UI design in creating engaging user experiences
Exploring the principles of visual hierarchy, typography, and color theory
Overview of UI design tools and software

Photoshop
Adobe Illustrator
Figma

Wireframing and Prototyping
Practicing with wireframing tools and techniques
Visual Design and UI Elements
UI elements (buttons, forms, icons, etc.)
Interaction Design
Designing interactive elements and intuitive user flows
Responsive Design and Mobile UI
Designing interfaces that adapt to different devices and screen sizes
Mobile UI best practices and considerations
Testing and optimizing designs for responsiveness
Designing for Web and App Platforms
Designing for web applications, mobile apps, and other platforms
Adapting designs for cross-platform compatibility
Designing effective e-commerce interfaces and product pages
UI Animation and Prototyping
Career options after UI UX Design course
A career after UI/UX design course can be rewarding and fulfilling in the area of User Interface/User Experience. With the growing importance of user-centered design in the digital landscape, there are many opportunities for UI/UX designers. Here's some information to help you understand the potential career path and opportunities in UI/UX design:
UI/UX Designer: As a UI/UX designer, you will be responsible for creating visually appealing and intuitive interfaces that enhance user experiences. You'll work on understanding user needs, conducting user research, creating wireframes and prototypes, and collaborating with developers to bring your designs to life.
UX Researcher: If you have a strong interest in user research and understanding user behavior, you can specialize as a UX researcher. You'll conduct user interviews, usability testing, and gather insights to inform the design process. Your findings will guide UI/UX designers in creating more effective and user-centric interfaces.
Interaction Designer: Interaction designers focus on creating engaging and seamless interactions within user interfaces. You'll design and prototype animations, transitions, and microinteractions to provide an intuitive and delightful user experience.
Information Architect: Information architects organize and structure information within interfaces, ensuring easy navigation and accessibility. You'll create information hierarchies, sitemaps, and navigation systems to help users find the content they need efficiently.
UX/UI Developer: If you have both design and front-end development skills, you can pursue a career as a UX/UI developer. You'll be responsible for implementing the UI designs and ensuring their functionality across different devices and platforms.
UI Design Team Lead/Manager: With experience and leadership skills, you can progress to a managerial role where you oversee a team of UI/UX designers. You'll guide and mentor the team, manage projects, and collaborate with stakeholders to deliver successful design solutions.
Freelance/UI Design Consultant: Many UI/UX designers choose to work as freelancers or consultants, offering their expertise to clients on a project-by-project basis. This allows for flexibility, the opportunity to work on diverse projects, and the ability to build a portfolio of varied work.